Paying it Forward
Scott Alan Cohon, (Wayne State, 1991) has been elected the 73rd Supreme Master of Alpha Epsilon Pi. After nearly two decades of professional and volunteer service to AEPi, he was elected at this summer's international convention in Fort Lauderdale. For Supreme Master Cohon, it represented the culmination of something he's dedicated most of his adult life to. And, he can trace it all back to one specific day.
"I showed up at Michigan State University in 1986 and was really sure that I wasn't going Greek. I had played football and baseball in high school and I was looking to those activities for my place at college. I came back to school after winter break and someone had carved a swastika into my dorm room door. I was the only Jewish kid on my floor and I knew, right then, that I had to find myself a comfortable place on campus. I knew some kids from high school who were in AEPi and from the minute I walked in the door, it felt like home and I knew that was what I wanted."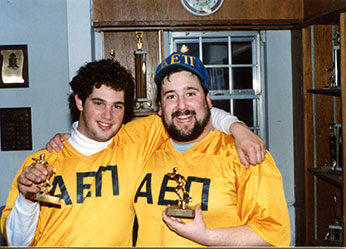 After living in the fraternity house and serving as kitchen manager, Supreme Master Cohon transferred to Wayne State University in Detroit following his junior year due to some family issues. He commuted from home each day and graduated in 1991. But, it was there, at Wayne State that the International Fraternity first came into his life.
"While I was at Michigan State, this big schleppy guy came to our chapter and that was my first meeting with Andy Borans. I told him that I was transferring to Wayne State and he and I started up our Metro Detroit chapter (comprised of students from several Detroit schools in addition to Wayne State). We initiated like 50 guys and, that summer at our convention in Dallas, I received the Norman Levin Outstanding Master Award."
"I knew that Scott was destined for greatness when he gave me an autographed photo of the late Edwin Starr, agent 00Soul. Starr once came to an all-campus dance sponsored by our chapter. He was about 25 years old and wore a pink suit. He could only lip sync not sing, due to union rules. The picture still hangs in my storage room," said Past Supreme Master Steve Bernstein (Wayne State, 1969).
After graduation, Supreme Master Cohon moved to Indianapolis to begin working for our fraternity. He served two years as a chapter consultant (now called education leadership consultant) and then five more years as the fraternity's Director of Programs and Risk Management.
"I hired Scott to travel for the fraternity and he was our first Director of Risk Management. Our family is very fond of Scott. He was a frequent guest at our house and our daughters still ask about him. Watching him move through the chairs to become Supreme Master is very gratifying and justifies the trust we placed in him 25 years ago when he moved to Indianapolis to work for AEPi," said AEPi's Executive Director Emeritus Sidney Dunn (Wayne State, 1968).
After spending seven years working for the fraternity (plus another year running a sports memorabilia business), Supreme Master Cohon moved to south Florida to work for an internet startup and then, eventually, a pharmaceutical company. He also immediately began working as a volunteer for the fraternity, first as a regional governor and then, eventually, serving on the Supreme Board of Governors.
"I met my wife pretty quickly after I moved to Florida. I had been a member of an online Jewish dating website and had kind of lost track of it. I had just gotten down here when I got a notice that I needed to update my account. I decided to do that and update my location to Boca Raton." Shortly thereafter, the website suggested that he contact Annat as she too had grown up in Southfield, MI. One year later, in 2000, they were married and today have two children, Mark (15) and Shayna (13).
"As Supreme Master, I'm looking to the examples set by my many mentors in the fraternity like Steve Bernstein, Don Rudick, Andy Borans and Richard Stein. They taught me early on that the fraternity is a larger entity than just your chapter or your region. They taught me the true meaning of being a mensch and paying it forward so that younger alumni and undergraduates learn that it is a lifelong experience. I want to use my time in office to make sure our undergraduates hear that message and to help support our staff. AEPi is at a crossroads. We're not this little organization anymore. We need to build up our infrastructure and staff to support this great organization that we've built."
AEPi is important to Supreme Master Cohon on many levels, both communal and personal. "Our fraternity makes a difference in leadership development, in the Jewish community and in building philanthropies. Nothing is more important than that but at the same time, my personal experiences are what drive me. Some of closest friends came from the fraternity; they were the groomsmen in my wedding and will always be my lifelong friends. I love giving back to AEPi because I know that I'll never be able to give back what it has given me."
Go back to cover