Missouri
Class of 1981 Celebrates 35-Year Reunion
by Dan Wilinsky, Missouri 1981

Over Halloween weekend, 12 AEPi brothers from the Mu Deuteron chapter at University of Missouri (class of 1981) reunited for the first time in more than 35 years to attend a pledge class reunion. The get-together included cheering on the Tigers (to no avail) at their home game vs. Kentucky.

Brother Dan Wilinsky (Missouri, 1981), former chapter Master, wrote a blog post recapping the weekend while giving advice to his 18-year-old self.

"What advice do you have today for your 18-year-old self?"

This past week I posed that thought provoking question, among others, to my fraternity brothers as we gathered for the first time in 35-plus years. I called the questionnaire a "campfire survey," and, as intended, that first night on the Mizzou campus in Columbia, 10 friends who hadn't seen each other in decades sat around a hotel lobby, picking up right where we left off, sharing stories — some forgotten, others that will live hysterically in infamy — getting current on our life stories, and answering questions, just like we would over a roaring bonfire with s'mores close at hand.

The wacky occasion when a hypnotist visited our frat house ranked high on the list of rib-tickling memories. So did the time when the most mischievous among us faked a letter on medical school letterhead to an older brother, convincing him he had a social disease. As did the one night during a particularly stressful finals week when we created a life-like dummy out of winter clothes and paper mache, snuck it into the main library and threw it off the balcony yelling "I can't take it anymore!" The dummy did a nosedive on a study table and hilarity ensued.

I don't remember laughing this hard, at least not for a long while. It's what happens when brothers connect after so many years; we're back to being 18 once more. Which leads me to a question that resulted in the most consistent response: What's your best advice to that college freshman who was you? A majority had the same reply, just expressed a little differently:

"Spend more time having fun… doing fun things; MUCH less time studying."

"Sleep less."

"Don't take all of this too seriously… everything will be OK in the end."

And these words of wisdom, perhaps more inspiring:

"Always shoot high and pursue your dreams.  Even if you fall short, the peaks are magnificent."

Moral of this reunion story: looking back, it's the fun times, the lifelong friendships and the shared memories that we cherish. Harder to recognize in the blur of youth; much easier to see in the wisdom of middle age.

Rewind to 1978: Right after dinner every weeknight as freshmen, our pledge class would gather like clockwork at a street corner outside our house, wait for the last brother to arrive, and then march en masse to the main library. And every night, we sang the same tune that went something like this:

"Pi Men. We're AEPi Men. Marching Along with Colors Flying. We Stand Together.

Yes, We're Together. Our Gold and Blue Waves On High."

Some memories can't be shaken. And as proven out this past week, the stories become most remarkable — and sometimes legendary — when, like fine wine, they're fondly stored in the corners of our mind, only to be uncorked and then cherished on a special occasion. Among brothers.

You can follow Brother Wilinksy's blog at www.danwilinskyblog.wordpress.com.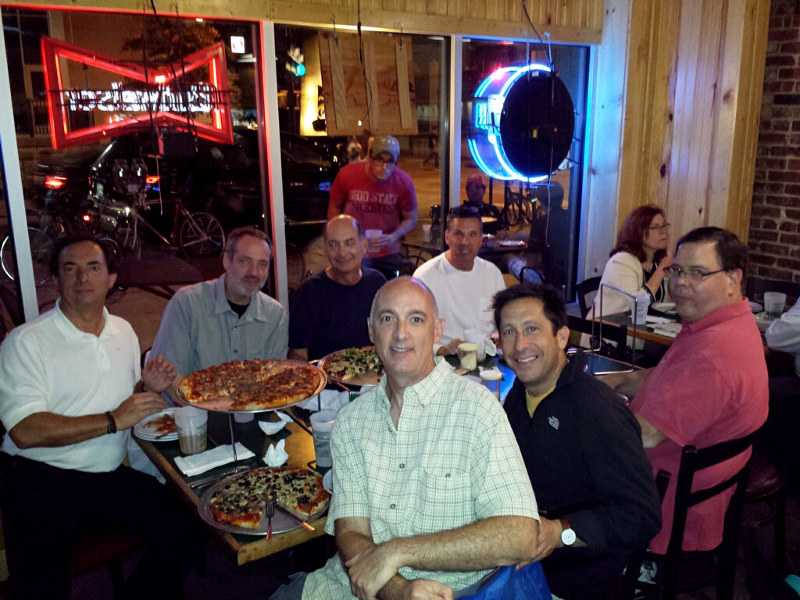 Go back to cover