Brothers Tour Japan with B'nai B'rith International
In March 2016, a dozen members of the B'Nai B'rith Young Leadership Network and AEPi brothers traveled together to Japan, with funding from Japan's Ministry of Foreign Affairs and the Japan International Cooperation Center, in an attempt to share knowledge and experience their culture. The group arrived at Narita International Airport in Tokyo, and their first day, like all of the others, was crammed with activities. They received a program orientation, learned about Japanese foreign policy and visited the famous Buddhist Temple of Asakusa.

"It was fascinating to see how a country holds onto its [ancient] history and embraces the future," said Cary Wolovick (Northern Illinois, 2009), B'nai B'rith's Chicago-based program associate. "It was also great to see that Israel is growing as a strategic partner for Japan, and we were pleased to have a frank and honest dialogue about Israeli-Japanese relations, as well as the challenges Japan faces in its part of the world."
Later in the trip, the group met with several diplomats at the Ministry of Foreign Affairs, where they learned about Japan's relationship with the United States, Israel and other countries in the region.

One of the topics discussed was the Japanese vote at the United Nations for Palestinian statehood. The visitors got a window into Japan's past and present by touring ancient temples and cultural landmarks. Among them were the Meiji Shrine in Tokyo, the Tōshō-gū shrine in Nikko, north of Tokyo, and the Ōtawara city office, where they learned about Japanese local government. They also spent two nights living with a Japanese family, to learn more about traditional Japanese culture.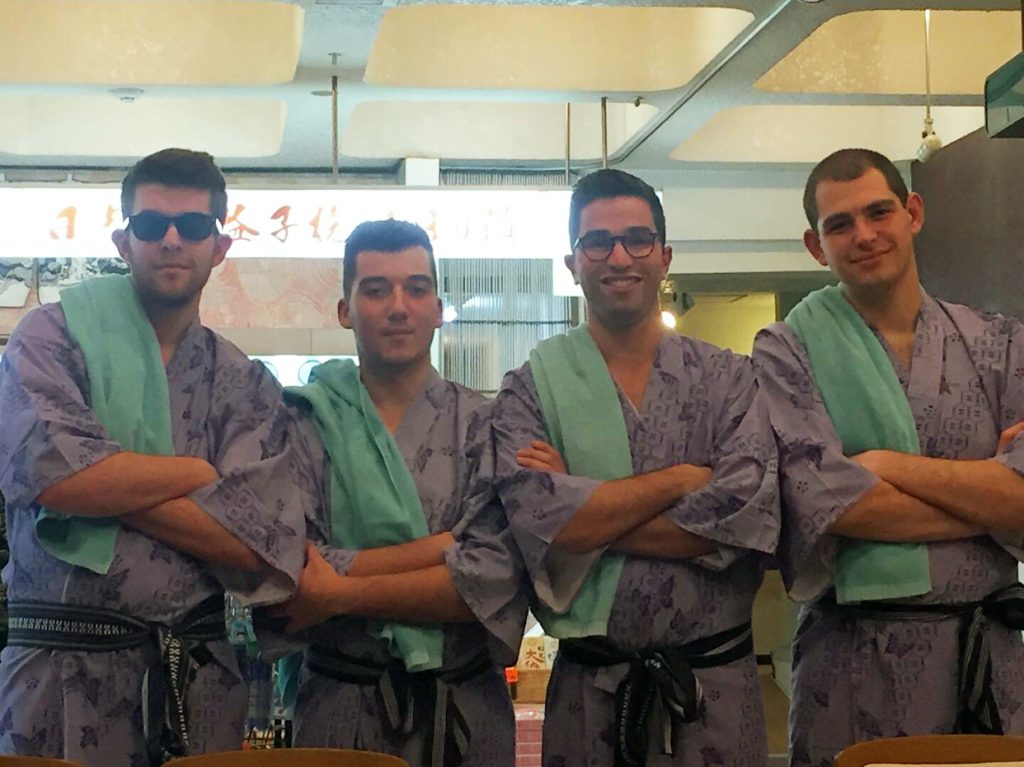 "Not every day, maybe not in a lifetime, does one stay in a person's home where they do not speak the natives' tongue," said Adam Levoy, chair of BBYLN-New Jersey. "By the end of the stay, we were communicating with ease and said warm goodbyes as we left to continue our journey. Lessons learned: Be open minded when traveling, and try what the culture has to offer."

During his home stay, he ate traditional Japanese meals sitting on the floor, took trips to the hot springs and enjoyed a magic show performed by the 84-year-old grandfather.

"I want [to say] how appreciative I am of the incredible opportunity and experience that B'nai B'rith gave me over the past eight days," said Max Bartell (Binghamton, 2016), chapter president. "I could not have asked for a better experience, with a better group of people."

It was clear that B'nai B'rith, and specifically, Executive Vice President Daniel S. Mariaschin, had made an impact in previous dealings at the United Nations and elsewhere on the world stage.

"Everywhere we went, they sent personal regards, remembering their meeting with him," B'nai B'rith Vice President of Programming Rhonda Love said. "It was really a wonderful experience and, I think, accomplished the goal of developing our relationship with Japan."s

Caption 1: Brothers Jason Selby (Oregon, 2016), Tomer Kornfeld (Brooklyn, 2017), Alex Silver (California – Irvine, 2016) and Max Bartell (Binghamton, 2016) try on kimonos.
Go back to cover