The Chabad House at the University of Delaware was recently damaged through an act of arson. Alex Beigelman (Delaware, 2022) and Louie Gelb (Delaware, 2021) are AEPi Brothers who recount their experience the night that it happened, how it affected the campus and the Jewish community, and how the Rho Deuteron chapter is doing its part to help rebuild. You can track their progress on GoFundMe. All funds raised will go directly to Delaware's Chabad on Campus. 
You hear it all the time from AEPi Brothers: our fraternity is the Jewish home away from home. For many, it's the campus connection to Judaism that they need and the stepping stone to their future involvement in the Jewish community. While we'd say this is definitely the case at the University of Delaware for many of our Brothers, we can also confidently say that we're lucky to have a strong support system of organizations like Chabad on Campus. Our campus Chabad House has always held a special place in the hearts of Rho Deuteron Brothers. This was the place where our chapter's Founding Fathers first met, where our first chapter meeting was held and where our history as Rho Deuteron today was cemented. We were shocked when we learned that an arson attack happened. The room where we once held chapter meetings was now covered in ash and soot; the area where many of our chapter Brothers had celebrated and observed Shabbat was in shambles and the place we once called our other Jewish home away from home was now gone.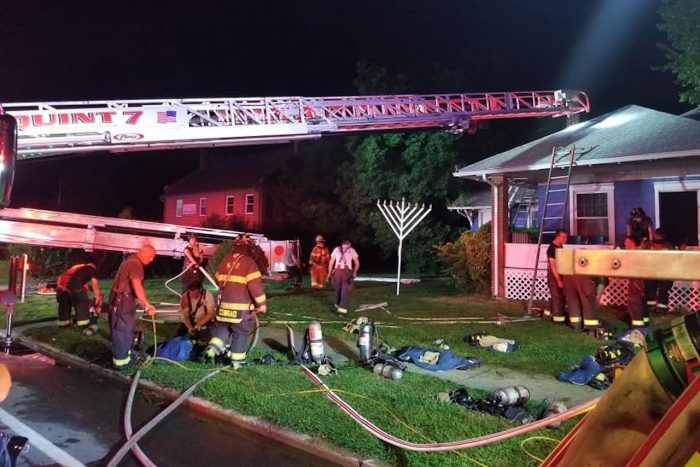 Make no mistake, this incident was no accident. It was the work of an arsonist who had every intention of destroying something that was near and dear to many of us on campus. What the arsonist failed to realize was how much this act of hatred would bring our campus community together in the end. Think about that; one person with darkness in their heart brought out the light in thousands of others. Rho Deuteron is proud to be spearheading the effort to rebuild our Chabad House.
What's baffling is that our campus has never experienced anything like this before. There's never been an attack on the Jewish students here. Everyone was just getting settled in after moving back to campus. It was a Tuesday night, and many of our Brothers started to see pictures and videos surface on Snapchat of the Chabad House on fire. Thankfully, Rabbi Avremel and his wife, Shulie, don't live in that house. Theirs actually shares the backyard, so our Brother-at-Large was quick to text him and ask if they were alright. Rabbi only knew what was happening to the other house because of our Brothers checking in on him.
We thought it best to check in with him the next day, so we had dinner with Rabbi and his family. They've been so supportive of us and invested in our success since the beginning, so we knew dropping by was the right thing to do. We were appalled to see the damage done to the house. Seeing the house made it clear to us that we had a personal stake in helping them rebuild, so we mobilized to help. We immediately launched a GoFundMe campaign, not really expecting much but hoping to make some sort of impact. To our surprise, the $5,000 goal we set was reached in under an hour. The support kept flooding in from all over the world. We had family and friends, students and faculty at Delaware, and AEPi Brothers from other campuses reaching out to see what they could do. We're now at $536,000 raised for Chabad and we hope that number continues to grow.  
It kind of blows our minds to see how many AEPi chapters are doing what they can. We've seen other chapters put our GoFundMe link in their social media bio and use their platform as a voice to bring about change. It's amazing to see how, regardless of the campus or Jewish community they're a part of, they're willing to come together and help us solely because we're their Brothers. The responses we've received is what AEPi is meant for. These networks of Jewish men coming together is what AEPi is all about. Even our own chapter has been incredible when it came time to ask them for help. Many of them aren't as involved in Chabad or Jewish life as much as the two of us are, but that didn't stop them from helping Chabad clean up the damage and sharing the link to the GoFundMe page. Everyone was eager to do their part since this hit home for so many of us. We know we'll get through this together.
While so many people have praised us for all we've done, we have to ask why we wouldn't support our Jewish community in its time of need? Making a call-to-action on social media is easy but we hope that after the dust settles, people go beyond this to take a more active role in our Jewish community. Use this situation as your rallying cry and get in touch with your Jewish identity. Be proud of who you are.
Rabbi Avremel is one of the kindest men we've ever met. He's passionate about what he does and many of us can't imagine our college experience without him and his family. They take the time to get to know everybody who walks through their door, whether it's their first or their fiftieth time. We know this situation won't break them; it'll only make them stronger. We'll always be thankful for Chabad's willingness to nurture our chapter Brothers and give them a place to grow. So, if they need manpower to clean up and rebuild, Rho Deuteron will be there. If they want someone to come over and wrap tefillin, we'll send a group of guys to show our pride as a part of the Delaware Jewish community. We'll always be there for whatever they need. We're proud that AEPi is leading the charge on the response to an attack on the Delaware Jewish community, because hate has no place here.