The 105th Anniversary Convention of Alpha Epsilon Pi
At this year's International Convention, more than 600 Brothers and guests, including 345 undergraduates, from around the world came together at the Arizona Biltmore Hotel in Phoenix to build up their leadership on campus by learning more from one another.
AEPi Summer Leadership Series

Alpha Epsilon Pi offers three Summer Leadership Series conferences that take place three days prior to International Convention. Each conference offers undergraduate Brothers the necessary tools to achieve the premiere fraternity experience. Brothers are challenged to master their ability to lead in business, learn how to win their school's student government election and reflect on their Jewish identity.
This year's Summer Leadership Series kicked off with Brother Rabbi Marvin Hier, founder of the Simon Wiesenthal Center, who spoke about the importance of AEPi in the Jewish world. He reminded us that, "even when times look low, you can be the change and leader that the Jewish world needs."
Michael A. Leven Advanced Leadership Institute

This conference bolsters business leadership skills to prepare attendees for their future career. Leven Leaders worked in meetings with Leven Facilitators and attended a career panel with Brothers George Weisz (Arizona, 1973), Todd Maurer (UT Austin, 1993) and Ari Ryan (Southern California, 1997) to work on their assigned case studies. Brothers applied what they had learned from the conference in a final case study presentation to a panel of judges.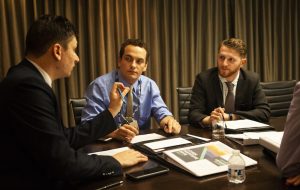 Hineni Jewish Identity Enrichment Conference
This conference offers two separate tracks: Jewish Identity and Tikkun Olam. The Jewish identity track allows Brothers to reflect on their Jewish Identity and discover ways to strengthen the Jewish Identity of their chapters. The Tikkun Olam track empowers Brothers to take the values of AEPi and the Jewish people into their community to help the less fortunate and make their community a better place.
Brothers in Jewish Identity were taught the importance of honoring Jewish values by Brother Rabbi Benzion Klatzko. Together, they had in-depth discussions on being an observant Jew in the 21st century and game planning how to implement an emphasis on Jewish identity within their respective chapter.
Attendees in Tikkun Olam heard a moving first-hand experience from combat veteran Harrison Manyoma about how Heroes to Heroes, one of AEPi's ten philanthropic beneficiaries, sent him to Israel, giving him the spirit to continue after suffering from PTSD. Writer, poet, performer and educator Caroline Rothstein spoke to Convention attendees about her personal experiences with sexual assault, sex and consent.
Both Jewish Identity and Tikkun Olam attendees spent their morning on Tuesday, August 7 doing a community service project for battered women and children in the Phoenix community.
Civic Summer Engagement Conference
This conference helps undergraduate Brothers learn the intricate workings of student government elections and how to successfully navigate them. This year's attendees learned how to engage in civil dialect with adversaries on tough political issues like Israel from former Students for Justice in Palestine (SJP) activist Rezwan Haq. Brothers also joined the Hineni Jewish Identity Enrichment attendees for a community service project. Participants also heard from PSM Elan Carr (UC Berkeley, 1990), Steve Stern (Tulane, 1990) and Micah Kamrass (Ohio State, 2011) about their civic engagement journeys.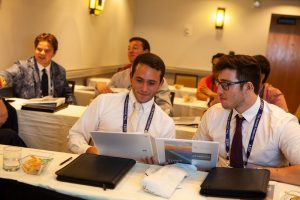 Day One

---
The 105th International Convention kicked off on Wednesday, August 8 with its second annual Career Day. Brothers were able to network with more than 25 employers and organizations advertising full-time jobs, mentorships and internship programs, get a free professional headshot, craft attention-grabbing resumes and learn how to dress for interview success with Men's Wearhouse. At the opening session, Brothers had a chance to see AEPi's year in review.
The evening ended with Jim Fleischer (Kent State, 1993) addressing all attendees for the first time as chief executive officer. Brother Fleischer announced ten colonies which would receive their charter in the 2018-2019 school year: University of Tennessee, Bar Ilan University, Illinois state University, University of Texas at Dallas, Appalachian State University, Grand Valley State University, Tulane University, Wake Forest University, Quinnipiac University and the University of Alabama.
Day Two

---
Special sessions and individual breakouts for current and aspiring chapter officers such as pledgemaster, rush chairman and Brother at large were offered throughout the day. Brothers then had the choice between several breakout sessions before hearing from Congressman Eliot Engel about the U.S. and Israel relationship. Following lunch, Brothers had the option of stopping through our annual Partner Fair where dozens of Jewish and pro-Israel organizations met directly with AEPi brothers. All attendees gathered on Squaw Peak Lawn, part of the Biltmore property, to take a group aerial shot that formed the letters Alpha Epsilon and Pi.
Day Three

---
On Friday, August 10, $200,000 raised by the undergraduate chapters all over the world was donated to the ten Official Philanthropy Partners. Representatives from BBYO, B'nai B'rith International (BBI), Gift of Life Marrow Registry, Heroes to Heroes Foundation, Israel Children's Cancer Foundation, IDF Widows and Orphans Organization, Innovation: Africa, MadaTech, Simon Wiesenthal and Birthright Israel Foundation attended a luncheon and were recognized before receiving their donation check. We are close to fulfilling our one million dollar commitment to these wonderful Jewish organizations.
At the 105th Supreme Council, we installed AEPi's first Undergraduate Cabinet of eleven Brothers: Adam Volman (St. Andrews, 2019), Adam Tankus (Guelph, 2019), Noah Pearl (UC Davis, 2020), Graham Wall (Oklahoma, 2021), Hunter Moore (Michigan State, 2020), Spencer Thrope (Virginia Tech, 2019), Kyle Kravitz (Tampa, 2019), Sebastian Feldman (California State – Fullerton, 2019), Jay Sirot (Cornell, 2019) Jon Coopersmith (Drexel, 2020) and Ben Zieper (Emerson, 2021). Cabinet members are chosen from each Educational Leadership Consultant (ELC) region and will serve as the voice and interest of the undergraduate brothers. Kyle Kravitz, Jay Sirot and Adam Volman were elected as the 2018-2019 Undergraduate Supreme Governors. Day three concluded with Shabbat services and dinner for all followed by #BROneg, AEPi's Jewish twist on the Oneg.
Honorary Initiates
During the 105th Celebration, 12 extraordinary men were initiated as honorary Brothers. These men were chosen because of their commitment to the ideals and values of Alpha Epsilon Pi.
2017 Honorary Initiates:
Amir Eden
Director of the Weintraub Israel Center
Paul Goldner
CEO of Parker Steel Company
Allan Grafman
Father of Director of Philanthropy Daniel Grafman (Binghamton, 2016) 
Rabbi Marvin Hier
Dean and Founder of the Simon Wiesenthal Center
Mitch Karson
President of Starfire Gems
Gary Kippur
Founder and President of Tucson Iron & Metal
Peter Kurz
President of Israel Association of Baseball
Stuart Mellan
CEO of the Jewish Federation of Southern Arizona
Dan Schwimmer
Father of AEPi's Southwest ELC 2016-2018, Avi Schwimmer (UCONN, 2016)
Adolph "Al" William Schwimmer
Founder and first CEO of Israel Aerospace Industries and grandfather of Avi Schwimmer (UCONN, 2016)
Steven Silberman
Director of Partnerships at Masa Israel
Misha Vilenchuk
Manager of Campus Operations & Development at KAHAL
Day Four

---
The final day of AEPi's 105th International Convention started off with Shabbat morning services followed by keynote speaker Pastor Chris Harris, who spoke on the power of knowing your neighbors and spending time in each other's community. Pastor Harris focused heavily on the power of diversity and inclusion.
Chapters took the day to meet with advisors for a group discussion and S.W.A.T. analysis and fraternize by the pool until the Convention culminated with the 105th Banquet dinner where Jeffrey H. Jacobson (Northern Arizona, 1992) was installed as AEPi's 74th Supreme Master. While we were sad to see another convention year come to a close, we are excited to see you all for the 106th International Convention in Washington, D.C.
Convention Award Winners
Each year, hundreds gather for a week of brotherhood, learning, tradition and recognition. The 2018 International Convention at the Arizona Biltmore marks Alpha Epsilon Pi's 105th year of developing Jewish leaders. To see a list of descriptions for awards and their recipients, visit our website.
Here are those who have come to be recognized, to be known among us as some of the best and brightest of our organization:
Chapter Awards
---
Louis Sherr Outstanding Chapter Revere Bowl
Delta Rho, Drexel University
Marc and Dana Katz Oustanding Colony Award
Iota Deuteron, University of Alabama
The Aronin Family Outstanding Delegation Award
Mu Theta, Appalachian State University
The Stanford and Sheila Odesky Award for Outstanding Rush Results
Top: Pi Upsilon Chapter, Purdue University
Runners-up:
Lauder Business School
McGill University
Michigan State University
Northeastern University
Queens College
Rensselaer Polytechnic Institute (RPI)
Sonoma State University
Southern Methodist University
Emory University
Georgetown University
James Madison University
Kent State University
Arizona State University
Cal. Poly – San Luis Obispo
California State University – Fullerton
Chapman University
Columbia University
The Abe and Renette Corenswet Chapter Progress Award (40 Brothers and over)

Chi Chapter, Michigan State University
The Tenzer Family Chapter Progress Award (Fewer than 40 Brothers)

Chi Rho Chapter, University of California – Riverside
The Allan R. Wolfe Chapter Publication Chapter Publication Award

Omega Chapter, University of North Carolina at Chapel Hill
The Alpha Epsilon Pi Risk Management Awards
First Place: Beta Nu chapter, Binghamton University
Second Place: Phi Delta Chapter, University of Pittsburgh
Third Place: Rho Upsilon Chapter, Rutgers University
The Philip H. and Susan Cohen Jewish Communal Activity Award First Place
Zeta Deuteron Chapter, Boston University
The Edward and Francine Gold Jewish Communal Activity Award Second Place
Iota Chapter, Columbia University
The Philip H. and Susan Cohen Jewish Communal Activity Award Third Place
Beta Nu Chapter, Binghamton University
The Philip H. and Susan Cohen Jewish Communal Activity Awards
Beta Sigma Chapter, Baruch College
Sigma Omega Chapter, Cal Poly – San Luis Obispo
Chi Phi Chapter, California State University – Fullerton
Delta Rho Chapter, Drexel University
Eta Sigma Chapter, Georgetown University
Omega Epsilon Chapter, James Madison University
Phi Deuteron Chapter, Kent State University
Sigma Eta Chapter, Lehigh University
Epsilon Chi Chapter, McGill University
Chi Chapter, Michigan State University
Sigma Kappa Psi Chapter, Northeastern University
Tau Delta Chapter, Northwestern University
Sigma Delta Chapter, San Diego State University
Upsilon Kappa Alpha Chapter, St. Andrews University
Omega Zeta Alpha Chapter, Sydney Metro
Beta Chi Chapter, University of British Columbia
Chi Rho Chapter, University of California – Riverside
Nu Delta Chapter, University of Central Florida
Phi Gamma Chapter, University of Florida
Omega Chapter, Univ. of North Carolina at Chapel Hill
Delta Chapter, Univ. of Illinois – Urbana/Champaign
Iota Upsilon Chapter, University of Iowa
Gamma Chapter, University of Pennsylvania
Phi Delta Chapter, University of Pittsburgh
Gamma Chi Chapter, University of South Carolina
Gamma Deuteron Chapter Univ. of Texas at Austin
Epsilon Upsilon Chapter, Yale University
Beta Nu Chapter, Binghamton University
The Leider Family Outstanding Website Design Award
Omicron Chapter, University of Georgia
Individual Awards
---
David M. Bacharach Most Outstanding Undergraduate
Kyle Kravitz (Tampa, 2019)
I.E. Goldberg Outstanding Undergraduate Ring
David Moll (UC San Diego, 2018)
Morris Berke Outstanding Master Award
Robert Proner (Yale, 2019)
Sidney E. Goldberg Outstanding Delegate Ring
Morgan Mattler (GVSU, 2020)
The Irving Axelrod and Raphael Wolf Outstanding House Manager Award
Max Labe (Michigan State, 2019)
The Alpha Epsilon Pi Outstanding Pledgemaster Award
Daryn Karp (Ryerson, 2021)
The Louis V. Heller Outstanding Exchequer Award
Jacob Hawver Pachter (UC San Diego, 2019)
The Phi Sigma Outstanding Lieutenant Master Award
Lavie Rabinovitz (St. Andrews, 2019)
The Andrew S. Borans Outstanding Rush Chairman Award
Hunter Moore (Michigan State, 2020)
The George S. Toll Expansion Activity Award
Individual: Max Kline (Tulane, 2019)
Chapter: Chi Chapter, Michigan State University
The Harvey S. Bodker Emerging Leader Award
Jacob Moeckler (Purdue, 2020)
The Arnold B. Hoffman University Service Award
Logan Presch (UBC, 2018)
The A. Edward Scherer Outstanding Chapter Advisor Award
Rick Wilkes (URI, 1979)
The Philip H. Cohen Undergraduate Achievement Keys
Michael Cooper (Waterloo/Wilfrid Laurier, 2018)
Jay Sirot (Cornell, 2019)
Alec Deer (Iowa, 2018)
The Nehemiah Gitelson Bronze Medallion
Ben Ezzes (Sydney Metro, 2020)
Lang Eric Sundby (Oklahoma, 2018)
Aaron Keller (CU – Boulder, 2020)
The Cohon Family Leadership Award
David Pinales (Cincinnati, 1994)
The Robert Silverman Outstanding Scribe Award
Spencer Caminsky (St. Andrews, 2020)
The Samuel J. Blustein Award for Outstanding Foundation Leadership
PSM Marc P. Katz (Pittsburgh, 1976)
The Alpha Epsilon Pi Official Philanthropy Awards
---
One of the values that the Alpha Epsilon Pi brotherhood holds highest is a commitment to Tikkun Olam, repairing the world. Chapters which do an exemplary job of raising funds for the fraternity's Official Philanthropy Program (OPP) are recognized each year both for their success in raising funds and also for the creativity and effort demonstrated in their philanthropy events.
Esponda Award in Official Philanthropy: #1 in amount raised
Pi Chapter, University of Wisconsin – Madison
Founder's Achievement in Official Philanthropy: $10,000 and more
Sigma Kappa Psi Chapter, Northeastern University
Lambda Deuteron Chapter, University of Miami
Beta Nu Chapter, Binghamton University
Beta Iota Chapter, Indiana University
Tau Delta Chapter, Northwestern University
Kappa Omega Chapter, University of Waterloo/Wilfrid Laurier
Community Hero in Official Philanthropy: $5,000 – $9,999
Phi Deuteron Chapter, Kent State University
Delta Rho Chapter, Drexel University
Iota Upsilon Chapter, University of Iowa
Nu Chi Chapter, North Carolina State University
Mu Upsilon Chapter, University of Minnesota
Alpha Chapter, New York University
Tau Phi Chapter, University of Tampa
Chi Chapter, Michigan State University
Lion's Legacy in Official Philanthropy: $1,000 – $4,999
Mu Tau Chapter, Massachusetts Institute of Technology
Omega Epsilon Chapter, James Madison University
Lambda Beta Chapter, Brandeis University
Phi Tau Chapter, Florida State University
Tau Pi Chapter, College of William and Mary
Chi Deuteron Chapter, University of Washington
Iota Deuteron Colony, University of Alabama
Xi Deuteron Chapter, Univ. of California – Los Angeles
Iota Beta Colony, Illinois State University
Nu Eta Colony, Quinnipiac University
Phi Alpha Chapter, Florida Atlantic University
Nu Delta Chapter, University of Central Florida
Alpha Eta Chapter, The College of New Jersey
Chi Rho Chapter, University of California – Riverside
Delta Chi Chapter, Florida Gulf Coast University
Phi Delta Chapter, University of Pittsburgh
Omega Deuteron Chapter, University of Michigan
Psi Deuteron Colony, University of Tennessee
Beta Upsilon Chapter, Bradley University
Upsilon Kappa Chapter, University of Connecticut
Gamma Chapter, University of Pennsylvania
Omicron Upsilon Chapter, Ohio University
Upsilon Nu Chapter, Univ. of Nevada – Reno
Eta Upsilon Chapter, Univ. of Hartford
Pi Beta Chapter, Hofstra University
Chi Nu Chapter, California State Univ. Northridge
Chi Eta Chapter, California State Univ. – Chico
Upsilon Upsilon Chapter, Yeshiva University
Beta Delta Chapter, DePaul University
Gamma Beta Colony, Wake Forest University
Go back to cover