In honor of the new Jewish year, 5781, we are helping Gift of Life Marrow Registry with its latest campaign to add 5,781 new people to the donation registry by the end of October. In honor of the year the Fraternity was founded, AEPi is pledging to contribute 1,913 of the total needed. More information about how you can help this month can be found here. Brother Jordan Jackson-Clark's (Sonoma State, 2018) story is meant to amplify the urgency for new donors. You can help by sharing this blog post on social media and using the hashtag #Join4Jordan.
Click below to register your chapter for AEPi's Gift of Life Month:
I've always found myself to be pretty care-free when it comes to added stress in my life. Don't get me wrong, I definitely feel stress just like everybody else, but I find it easier to let it roll off my shoulders rather than let it build up inside of me. I think I've always been that way because of the support system I keep around me at all times. It just makes it easier to go through the trials of life when you have people close to you who you can rely on.
I never knew how much I needed my support system until I was diagnosed with Acute Myeloid Leukemia (AML) two months ago. I had weeks of on and off stomach pain and none of the doctors I saw thought it was anything serious. It wasn't until the third time my pain came back that we knew something was seriously wrong. One of the hardest parts was how cold the call from the hospital was with my diagnosis. All they said was that I had Leukemia and needed to get to the hospital as soon as possible.
I'm a fighter, so I wasn't worried about my recovery, and my girlfriend, Ella, has been there for me every step of the way. While I've been focused on getting better, she's directed all of her energy into researching my cancer and helping me in any way possible. Without her, I honestly don't know how I'd keep myself on task. Her love and support though, as well as the love and support from my family, isn't enough to treat my form of Leukemia. I need a bone marrow transplant, and that's where I'm hoping the support from my AEPi Brothers can come into play.
The swab test performed to see if I'm a match with someone is simple and only takes a few minutes to complete. Sounds easy, right? The tricky part is that I'm bi-racial and Jewish, so it's extremely difficult to find a viable donor. Shockingly, I'm not alone. 75% of multi-racial individuals cannot find a matching donor, even with more than 33 million people in the registry. What's even crazier to me is that out of all the potential donors, only about one in every 1,000 end up matching with someone in need. The pandemic we're in only makes things harder. In-person donor drives can't happen, which means fewer people are being added to the registry since they're at home and virtual for the time being. The good news is that just about anyone can swab to add themselves to the registry, and registries are able to send test kits to your home so that you can potentially be a life-saving match.
My family and friends are what keep me motivated to get better, and I know my strength is what keeps Ella sane every day. The truth is, adjusting to the hospital stays, countless tests, chemo treatment and doctor visits is difficult. While I was in the hospital, though, I found out I wasn't alone. I met a few people who were sick just like me and we became good friends. Even my AEPi Brothers found a way to put a huge smile on my face during my first round of treatment. They had Ella bring in a gift for me: a Nintendo switch and gift cards! I can't thank them all enough for that, it truly makes my time in the hospital easier and keeps my mind off of things when I can't go outside and have to stay indoors for an extended period of time. I guess it's just another example of how strong my support system is, and how grateful I am for the people I have around me in my life.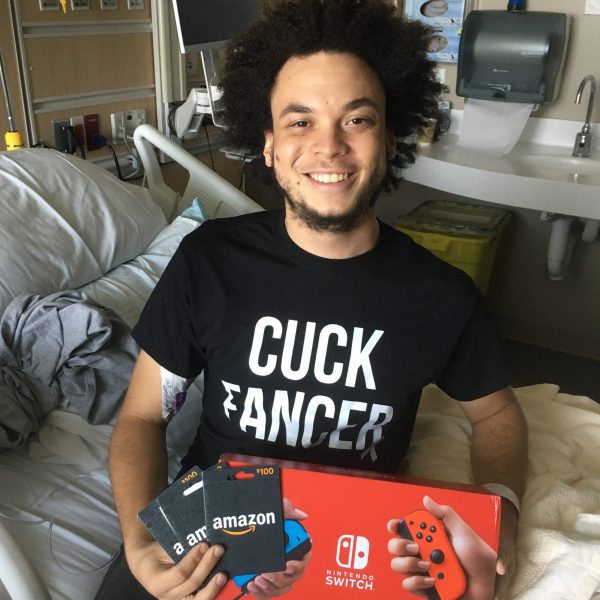 My journey with cancer is far from over, it's still really just beginning. I've got four more trips to the hospital for chemo treatment where I'll spend about four days per month (this is where that Switch will really come in handy). Then, I'll have some more tests to see where my numbers are at. I plan to meet with Stanford since it's close to where I live, and they have a renowned Blood and Bone Marrow Transplant (BMT) Care Team and research facility. Our hope is that they'll help me determine the next steps after my treatment is finished. Regardless of how tough these next few months are, I know this is what's best for me and plan to keep a healthy mindset. This is just a small speed bump in my life, keeping me in check. I know I'll heal; the mental game is half the battle.
While I'm doing all I can to get back to "normal," I hope you'll do all you can to get more people in the registry. For anyone in need of a transplant like me, it's a waiting game until we find someone like you. It could be a few weeks, or possibly years, but our chance at getting better doesn't improve unless you take action after you finish reading this. You never know whose life you could save after you swab. It could be your best friend, a stranger, one of your chapter Brothers, possibly your big or little Brother. In AEPi, we talk about the connections you make and how the network is unlike anything else out there. Now, I need you to show me what this network can really do. Your swab today could save my life tomorrow.
Keep up with Jordan's recovery, and learn more about him, by visiting his website. Help us amplify Jordan's story by sharing this blog on social media and using #Join4Jordan.