Alex Cohen (Pittsburgh, 2022)
Jewish Pittsburgh is my home. It's fair to say that I had a traditional Jewish upbringing: my parents and I would go to synagogue, I was Bar Mitzvahed and I participated in BBYO and Friendship Circle. Although I'm not from Squirrel Hill, I spent almost every weekend there. My grandparents used to attend the Tree of Life congregation and I knew their friends there, and I had spent time at the temple myself.
I remember last October 27 all too vividly. I woke up to sirens at the hospital across the street but just brushed it off. I didn't understand what was happening until I was getting text messages asking if I'm ok and if everyone I know was safe. I looked on my phone and on the news to figure out what was going on when I saw the headline: "Shooting at Pittsburgh Synagogue."
My heart sank. My friends? My family's friends? My neighbors? Is everyone ok?
The next few hours were desperately frantic. An attack on the Jewish people on Shabbat means that many observant Jews can't use technology to get in touch with loved ones. I immediately started texting my friends to make sure they were ok, but in one case I didn't hear back for an entire day. That night, we found out that one of my grandmother's friends, Daniel Stein, was murdered.
The following days were marked by pain and confusion. Squirrel Hill is one of the friendliest most diverse places I know, so why did this have to happen? Why here, and why us? I didn't know the victims personally but seeing my grandma that torn up was just hard. In the Pittsburgh Jewish community, you may not know everyone but there are still no strangers. Everyone is someone's friend, neighbor, relative, etc. This felt like an attack on all of us.
Within twelve hours of the shooting there was an organized vigil, and nobody was scared to be there. The night of the deadliest attack against Jewish people in U.S. history, nobody was afraid to say they were Jewish and nobody was afraid to grieve and cry together. What followed this immense darkness was a community coming together. Over the following weeks, I saw how Pittsburgh is willing to stand together against hate. Other Jewish congregations opened their doors to members of the Tree of Life congregation, churches offered to host high holiday services and Muslim organizations offered to protect synagogues during prayers. The University of Pittsburgh and our city went above and beyond to make sure Jewish students were safe and heard. Of course, the Jewish community was hit the hardest but we saw Jews and non-Jews alike coming together to recognize the significance of what happened.
In addition to the community, one of the best support systems for me was AEPi. As a college freshman looking for a community, this tragedy drove me to seek out the strength of brotherhood. In the spring of 2019, I joined the Phi Delta chapter of Alpha Epsilon Pi. My new Brothers were a support system for me when going to services, Shabbat dinners or just having a shoulder to lean on. A year after the shooting, my Brothers still recognize the importance of attending Jewish events in the wake of this act of hatred, as we had Brothers encouraging each other to attend high holy day services. When I was just starting at Pitt, I was looking to connect to the Jewish community and AEPi was the perfect solution to that.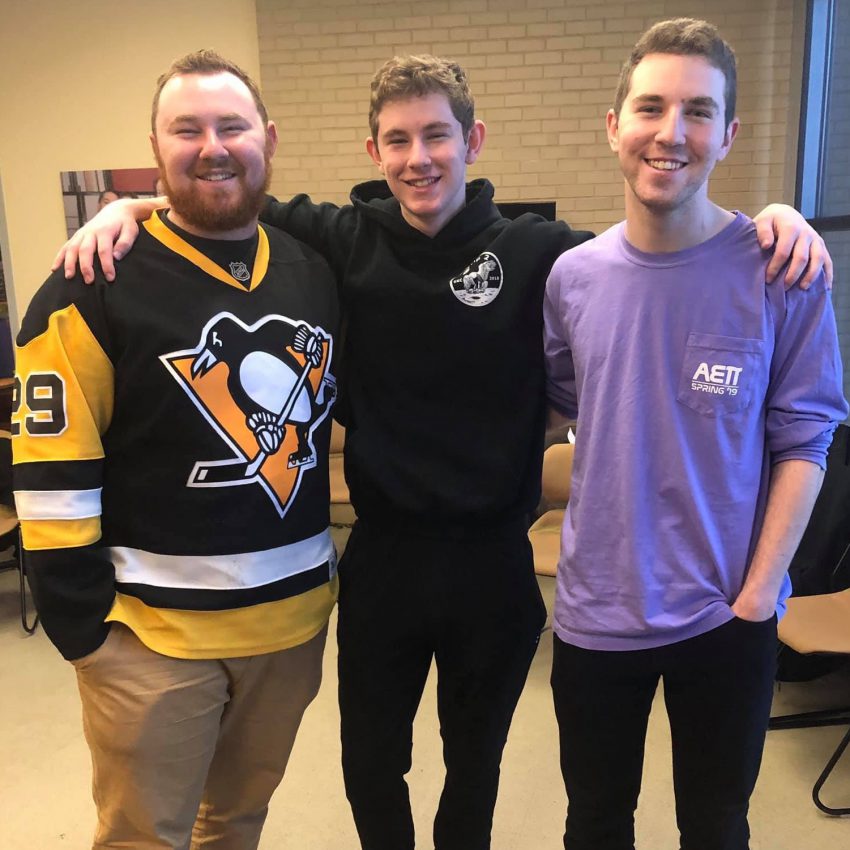 Looking back, this act of blind hatred reaffirmed the spirit of Jewish resilience. When things go wrong and disturbing actions take place, people do care. For better or worse, we were now having conversations about the safety of the Jewish people. We are more security conscious and more aware of how dangerous anti-Semitism is. What we see today is a community working to improve itself and do well, but also to do good. The victims' families have set up a day of community service on the anniversary of the event and—of course—the Brothers of the Phi Delta chapter are participating.
I know that our community will move forward, and though we can't control the circumstances in our lives we can improve ourselves and be better than we were yesterday. We can't put our problems on other people, we can't look for reasons to be suspicious of each other. We can look out for each other, we can love our neighbor. We come from the city of Mr. Rogers and Pittsburgh is one giant neighborhood, and I see no reason why the world can't treat each other the same way. As we continue to heal—even a year later—and figure out where we go next, we are still not scared and we will keep moving forward.
All of our Brothers were, obviously, impacted greatly by the tragedy at Tree of Life. We encourage our Brothers and other supporters to take a moment this weekend to think of those who lost their lives, those who survived and how we, as a larger community, can come together to prevent this kind of hatred and violence in the future. We recommend you consider signing up to Pause With Pittsburgh on the 27th to join with people around the world to take a moment to think about Tree of Life and commit to strengthening our Jewish communities.
We remember:
Rose Mallinger, 97
Joyce Fienberg, 75
Richard Gottfried, 65
David Rosenthal, 54
Bernice Simon, 84
Sylvan Simon, 86
Daniel Stein, 71
Jerry Rabinowitz, 66
Cecil Rosenthal, 59
Melvin Wax, 88
Irving Younger, 69
May their memory be a blessing.