This week's FridayPiday is a part of our special weeklong series examining AEPride and looking closer at issues of inclusivity. Each week, FridayPiday looks at Brothers who are excelling on their campuses, in their communities or in their professions. This week's feature is on a Brother who has been a leader in his community and in AEPi, both in terms of promoting the Jewish community and recognizing AEPi's role in celebrating Pride.
Brother Michael Oxman (Northwestern, 2006) thought he had it all figured out when he entered Northwestern in the fall of 2002. As a scholarship athlete on the diving team, he figured that his college career was going to revolve around his studies, his sport and the friends he made on his team.
"I was really involved in BBYO in high school (in the suburbs of Milwaukee), in fact I was the regional president. I just never thought I would have time to commit to the swim and dive team and AEPi," he recalled. "My dad was an AEPi, so I knew what it was and sometime first semester I had met a few guys at a Hillel event, so I went there during rush in the spring semester. It kind of reminded me of my BBYO experience and I thought it might give me a different group of friends, so I pledged."
What he got out of AEPi was much more than he ever expected.
"Throughout pledging and then for the next four years, the amount of support I got from AEPi – that everyone in our chapter got from each other – was so much more than I ever expected. My Brothers came to watch me at dive meets, not just at home, but throughout the Big 10. They used to show up with 'Go Ox' spelled out on their chests in paint. It was just a different level of friendship."
Brother Oxman gave back to his chapter, too. "I got involved on a committee as a freshman and then served as Lieutenant Master when Eric Farbman (currently AEPi's Supreme Exchequer) was Master and then served as Master the next year."
After graduation, Brother Oxman stayed in Chicago and began volunteering as a chapter advisor and then regional governor for AEPi. "My AEPi experience in college was so powerful for me that I wanted to give back," he said. He helped re-energize the Chicago alumni club and made connections with alumni of all ages from throughout the region.
But, there was still something bothering him.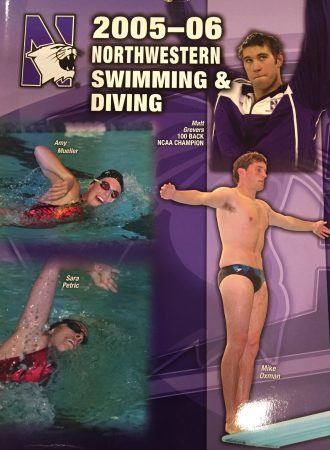 "I was really involved in AEPi but started to get involved in the broader Jewish community through the Jewish Federation of Chicago. I remember I was at something and I started thinking, 'Why am I the only gay person here?' So, with support of the Federation, I started an LGBTQ group which has now become a thriving group with more than 600 people involved. These people may not have been as involved or engaged in the Jewish community without JUF Pride (now called YLD Pride)."
"I wasn't out in college," Brother Oxman said. "I wish I had been in a position to be out and could have lived college as a more authentic version of myself. That wasn't really that long ago but there weren't many in the Greek system who were out." That has changed over the years and in no small part because of the leadership of Brother Oxman.
"A few years ago, I started an online community through a Facebook group for gay Brothers of AEPi. I thought it was more of a lark, but it grew into something much bigger. At AEPi's Centennial convention, we had our first face-to-face meeting and I was so pleased that so many Brothers ­— of all ages and from chapters throughout the world — came to the meeting. And, at the same time, straight Brothers who are allies and supportive of us came to the meeting to show their support. There was such a diverse group of Brothers there that I recognized what our group has done for our Brothers. (Today, the group has more than 200 members). I had Brothers telling me how important it is to them that AEPride exists and it allows them to be a part of AEPi and gave them the confidence to join and get involved."
"One of the experiences that makes the AEPi Greek experience different is that we have this shared identity of being Jewish that forms the core of who we are. From there, we can embrace our differences. The shared commonality of being a Jewish fraternity lets us be more diverse and lets us be a more welcoming place for everyone, including gay Brothers."
Earlier this year, AEPi Supreme Master Jeff Jacobson appointed him to head a task force on AEPi Pride and indicated AEPi International's support for all Brothers no matter their orientation. "Having the Supreme Master make that announcement," said Brother Oxman, "that made all of the difference for a lot of Brothers."
Brother Oxman continues to expand his horizons as a Jewish leader. He is one of only 20 people chosen to participate in the Chicago class of the Wexner Heritage Program. With a mission to expand the vision of Jewish volunteer leaders, deepen their Jewish knowledge and confidence and inspire them to exercise transformative leadership in the Jewish community, Brother Oxman has embraced his role of helping grow his Jewish community.
Outside of his Jewish communal and AEPi involvement, Brother Oxman is a Vice President and Financial Advisor at the Cohn Weisskopf Oxman Group at Morgan Stanley. He lives in Chicago with his fiancée, Doug Winkelstein. The couple plan to marry next March.
"Three years ago, I was in Israel with this group of about 150 gay Jews from across the country but directly as a result of the group I helped start at the Federation in Chicago. We all marched in the Pride parade in Tel Aviv and it made me think of my previous two trips to Israel. My first time there was on Birthright and then I went again in 2009 as a part of the official AEPi Mission to Israel as I was just coming out as gay. As I was marching in the Tel Aviv parade, fully out, I thought back on those previous trips and I realized that my gay identity, my Jewish identity and my AEPi identity can be combined into one experience. I can be who I really am. I don't have to pick one or the other."
#ProudtobeaPi