Scroll down to see key moments captured in 2018.
Back-to-back! Drexel Brothers rejoice after being awarded Chapter of the Year for the second year in a row at the 105th International Convention in Phoenix. Read more about this years award winners here.
During a day of service while attending this summer's 105th International Convention, Jacob Goldsmith (Florida Gulf Coast, 2020) volunteers as part of the pre-convention Summer Leadership Series at the Sojourner Center in Phoenix, Arizona.
A record crowd attending the AEPi & Masa Israel Journey Reception after a long day at AIPAC Policy Conference in March. See more photos form the event.
Foundation CEO Andy Borans receives warm embrace from CEO Jim Fleischer after receiving the Order of the Lion.
Brothers take part in a health and safety session during International Convention.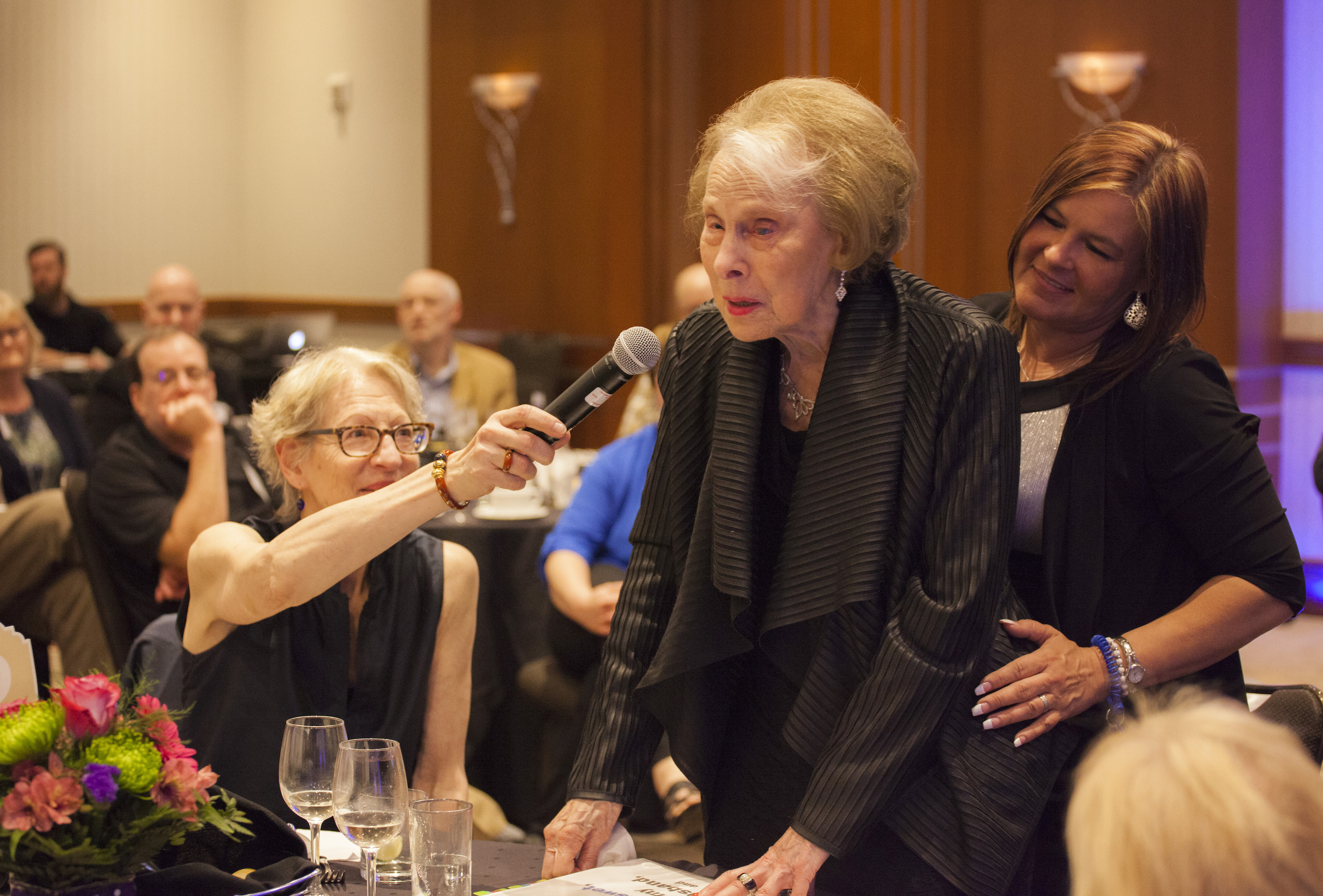 AEPi Sweetheart and icon Renette Corenswet delivers a heartfelt address to the crowd at AEPi's Order of the Lion in Nashville, TN.
Brothers assist Nutritionist Marc Newburger (Southern California, 1997) in drinking lubricant on stage during the Summer Leadership Series (LEVEN Institute). Entitled "Food for Thought", the demonstration showcases the value of using all-natural products. "If you wouldn't eat it, don't use it on your body", says brother Newburger.
Brother Emanuel Isakov (South Florida, 2018) cheers passionately during the Saturday Night Gala at AEPi's 105th Convention in Phoenix. Read more about highlights from Convention here.
The Omega Zeta Alpha chapter (Sydney Metro) in Australia receives an official charter on Saturday, May 5 from past Executive Director Andy Borans.
Andy Borans addresses 2018 Midwest Conclave attendees at Purdue University as founding father Charles C. Moskowitz.
Nate Gruber (Arizona State, 2018) (left) holding the Noah Jacobson Z"L (Arizona State, 2020) Memorial Award for Courage and Leadership next to Noah Jacobson's father, Aaron Jacobson.
Brother David Koyrakh (Minnesota, 2021) walks the streets of Israel at sunset.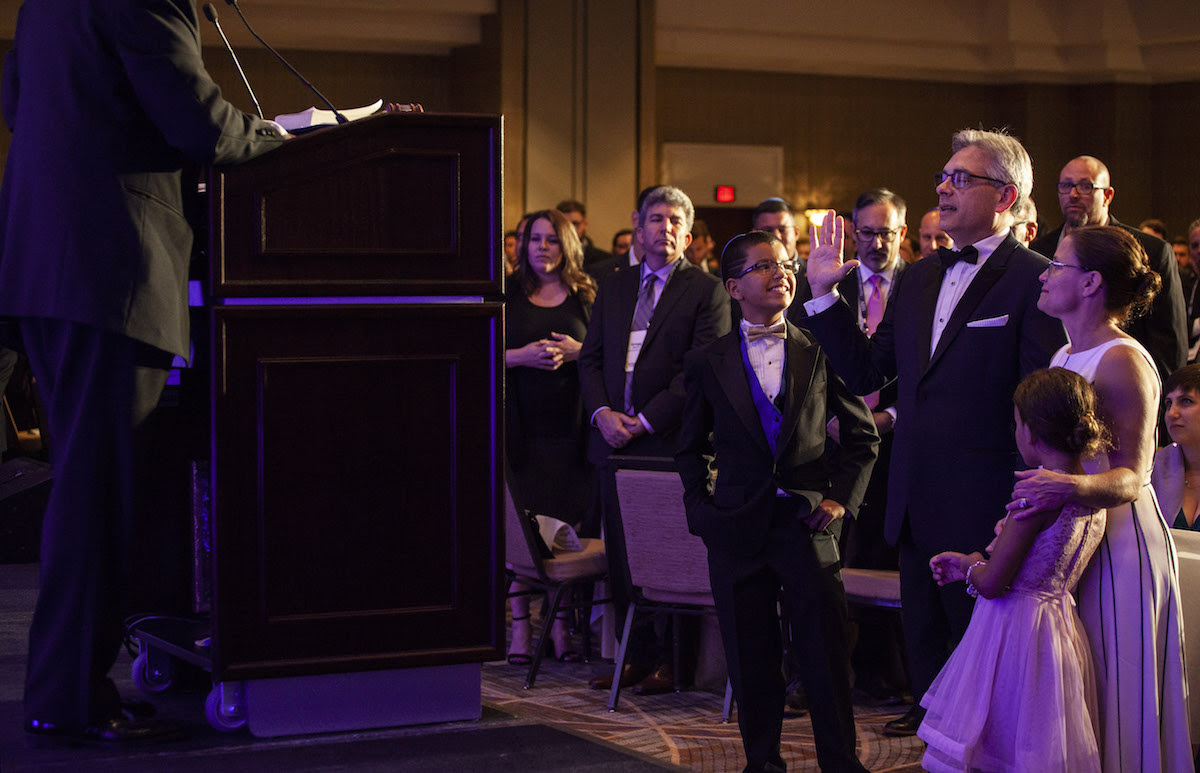 Jeffrey H. Jacobson (Northern Arizona, 1992) installed as AEPi's 74th Supreme Master.
Johnny Grishpul (Cal. Poly – SLO, 2015) admires the trees at Southeast Conclave in Orlando, Florida.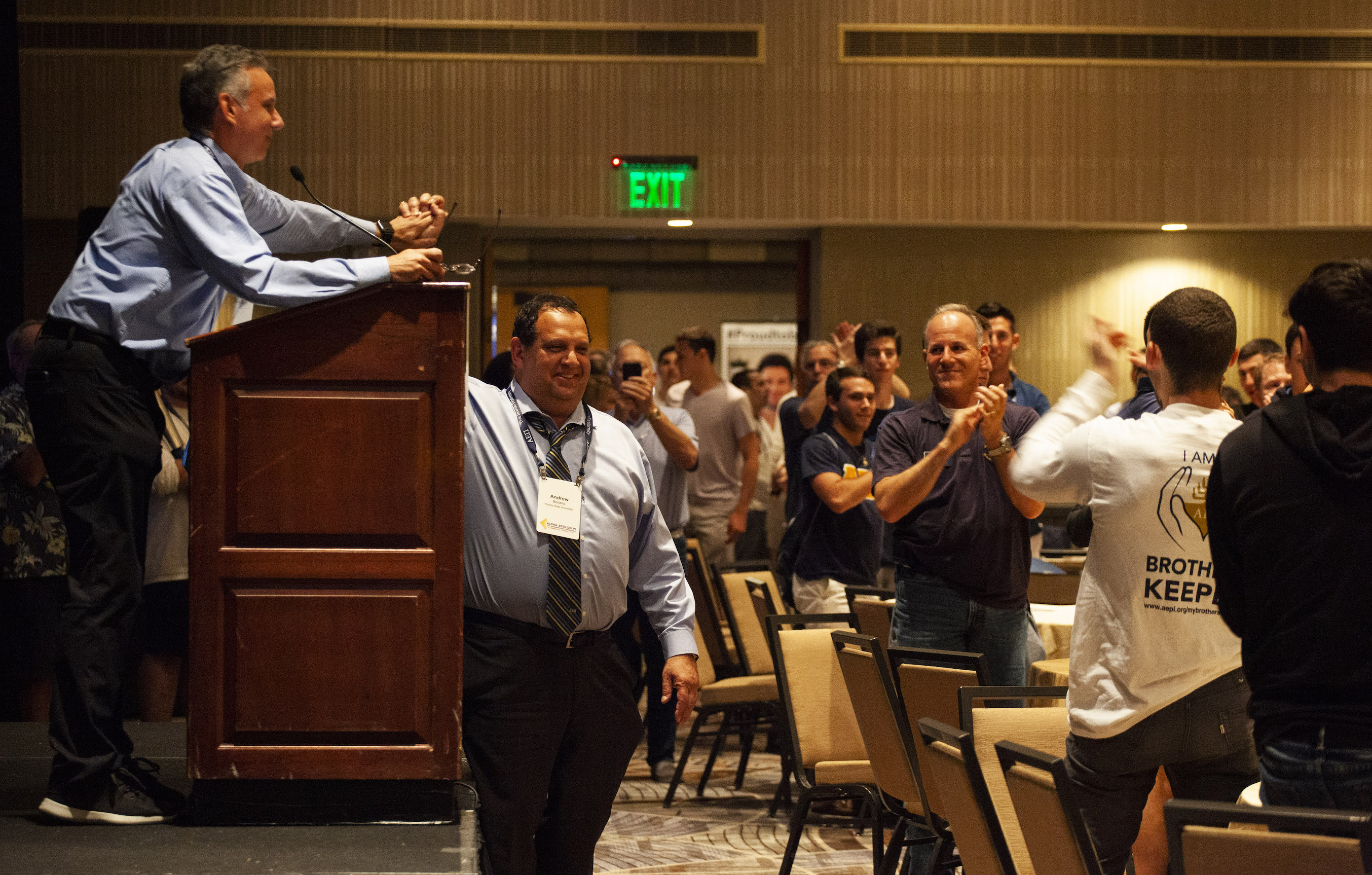 CEO Jim Fleischer (left) welcomes long time friend and mentor Andy Borans into convention opening session.
#BROneg dance contest during BBYO International Convention.
Brothers at Towson pose with University President Kim Schatzel after hosting campus-wide rally.